Events
The Center on International Cooperation hosts numerous events such as high-level meetings, forums, roundtable discussions, webinars, dialogues, and more.
Monitoring Compound Risk in the COVID-19 Era: Advances and Future Directions for Tracking Compound Risk
Date:
November 19, 2022
Sri Lanka AI Challenge Demo Day
Join NYU CIC, Omdena, and DreamSpace Academy Sri Lanka for an exciting demonstration of their recent collaboration project where they convened machine learning and natural language processing experts to develop a new AI tool to accurately detect hate speech in Tamil language. Speakers will discuss the project's inception and development, along with showcasing how the tool will work.
Date:
August 4, 2022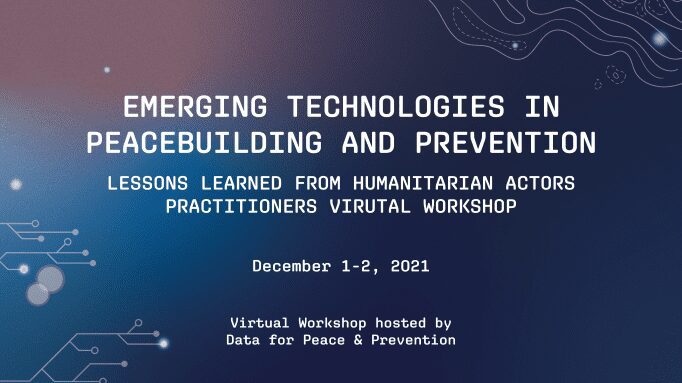 Emerging Technologies in Peacebuilding and Prevention—Lessons Learned from Humanitarian Actors Practitioners Virtual Workshop
This virtual workshop will provide an opportunity for attendees to discuss the current and future applications of emerging technologies in peacebuilding and learn from humanitarian actors and their experiences. The workshop will create a space for sharing both successes and failures, while envisioning together how to increase the use and impact of data and data-driven approaches in peacebuilding and conflict prevention. Mark your calendars to to join colleagues and practitioners across the globe as they share their work and lessons learned from emerging technologies in humanitarian and peacebuilding fields. Registration will be open for all interested participants in late October.
Date:
December 1, 2021
Global Week for Justice 2021
With trust in institutions decreasing and economic outlooks uncertain, societal tensions are on the rise. Wherever there are conflicts and disputes, justice actors have a role to play. If they put people at the center, make government more open and accessible, they can reestablish trust and pave the way for recovery. This is why justice leaders need to discuss people-centered approaches for transforming justice systems and strengthening the social contract. Save the Date: December 1-8, 2021 RIGA: 15:30-17:30 | PARIS: 14:30-16:30 | NEW YORK: 08:30-10:30 Transforming justice for a vibrant social contract: Join us and contribute to be a part of the 2021 Global Week for Justice, comprising in-depth discussions with justice leaders and practitioners, including a global dialogue of justice leaders. This event is chaired by the Minister of Justice, Latvia. Justice Leaders from around the world will come together to discuss strategies and plans to fortify the social contract by ensuring justice for all
Date:
December 1, 2021
Programs:
Demographic and Socioeconomic Changes Induced by the COVID-19 Pandemic in Bangladesh: Dynamics and challenges of new circumstances
BRAC, UN Women, and New York University's Center on International Cooperation (CIC) recently concluded a study of the demographic and socioeconomic changes induced by the unprecedented reverse (urban-to-rural) migration that took place in Bangladesh following the COVID-19 lockdown. Findings from the study reveal the dire circumstances facing returnee migrants, their families, and their rural communities, including an alarmingly high incidence of child marriages among surveyed households, an explosion in household debt, and the drying up of income opportunities.
Date:
June 23, 2021
Book Launch: The Future of Diplomacy After COVID-19
The NYU Center on International Cooperation is hosting a panel discussion with the co-authors of the book recently published by Routledge, "The Future of Diplomacy After COVID-19: Multilateralism and the Global Pandemic." Written by a team of authors who have directly worked in international public policy and the establishment of global agendas at the United Nations, this book considers the impact of the COVID-19 pandemic on international diplomacy and the future of multilateralism in key areas including public health, sustainable development, economics and financing, digital cooperation, peace and security, and the rule of international law.
Date:
June 3, 2021
Conflict Early Warning/Early Action Practitioners Workshop
The 2021 Practitioners Workshop on Conflict Early Warning/Early Action took place virtually on 18-20 May. This year's workshop will bring more visibility to specific advancements in the conflict and violence early warning and early action (EWEA) fields, with the idea to share global lessons from different actors and offer specific skills-building opportunities. The nature of conflict is transforming across the world while many new technologies are developing exponentially. The Conflict Early Warning/Early Action (EWEA) community is transforming its work as well to tackle the challenge and seize the opportunity.
Date:
May 18, 2021
Programs:
What can be done to prevent a resurgence of violent extremism in Northeast Syria?
The event will discuss the resort to violence and violent extremism in Northeast Syria based on a new report entitled "Preventing the Re-emergence of violent extremism in Northeast Syria." This report was produced as a joint collaboration by the National Agenda for the Future of Syria Programme (NAFS) at UN ESCWA and the Center on International Cooperation at New York University.
Date:
March 25, 2021
Monitoring Compound Risk in the COVID-19 Era: Advances and Future Directions for Tracking Compound Risk
There is rapidly growing interest in identifying, monitoring, and anticipating multiple interacting risks, as epitomized by the COVID-19 pandemic. Institutional bodies are seeking to shift to a policy response that is more forward-looking and risk-based, rather than reactive and needs-based, and are working to develop toolkits for measuring compound risk. This webinar examined the state of the art in compound risk monitoring, showcasing frontier research and policy work on multi-dimensional risk tracking.
Date:
November 19, 2020
Leadership and the Women, Peace, and Security Agenda
In September 2017, UN secretary-general António Guterres launched a strategy to achieve a long-overdue goal of gender parity among staff across the United Nations (UN). This event examines progress in meeting this goal with a specific focus on challenges to increasing women in the senior leadership roles in the UN's peace and security institutions, and we discuss why this goal is important for the quality of the UN's efforts to resolve conflict and build peace.
Date:
October 22, 2020
UN General Assembly High-level Week: The Challenge of a Lifetime: Ensuring Universal Access to COVID-19 Health Technologies
The COVID-19 crisis has demonstrated that ensuring the right to health of all citizens in all countries is a matter of utmost urgency, and that no one will be safe until everyone is safe. The pandemic knows no borders, and can only be tackled through an unprecedented effort of global solidarity and international cooperation. The impacts of the pandemic, however, are not felt equally across and within societies, and particular attention must be paid to leave no one behind in the response and recovery.
Date:
September 25, 2020
Programs:
Stay Connected
Join our mailing list to receive regular updates on our latest events, analysis, and resources.