The NYU Center on International Cooperation is hosting a panel discussion with the co-authors of the book recently published by Routledge, "The Future of Diplomacy After COVID-19: Multilateralism and the Global Pandemic." Written by a team of authors who have directly worked in international public policy and the establishment of global agendas at the United Nations, this book considers the impact of the COVID-19 pandemic on international diplomacy and the future of multilateralism in key areas including public health, sustainable development, economics and financing, digital cooperation, peace and security, and the rule of international law.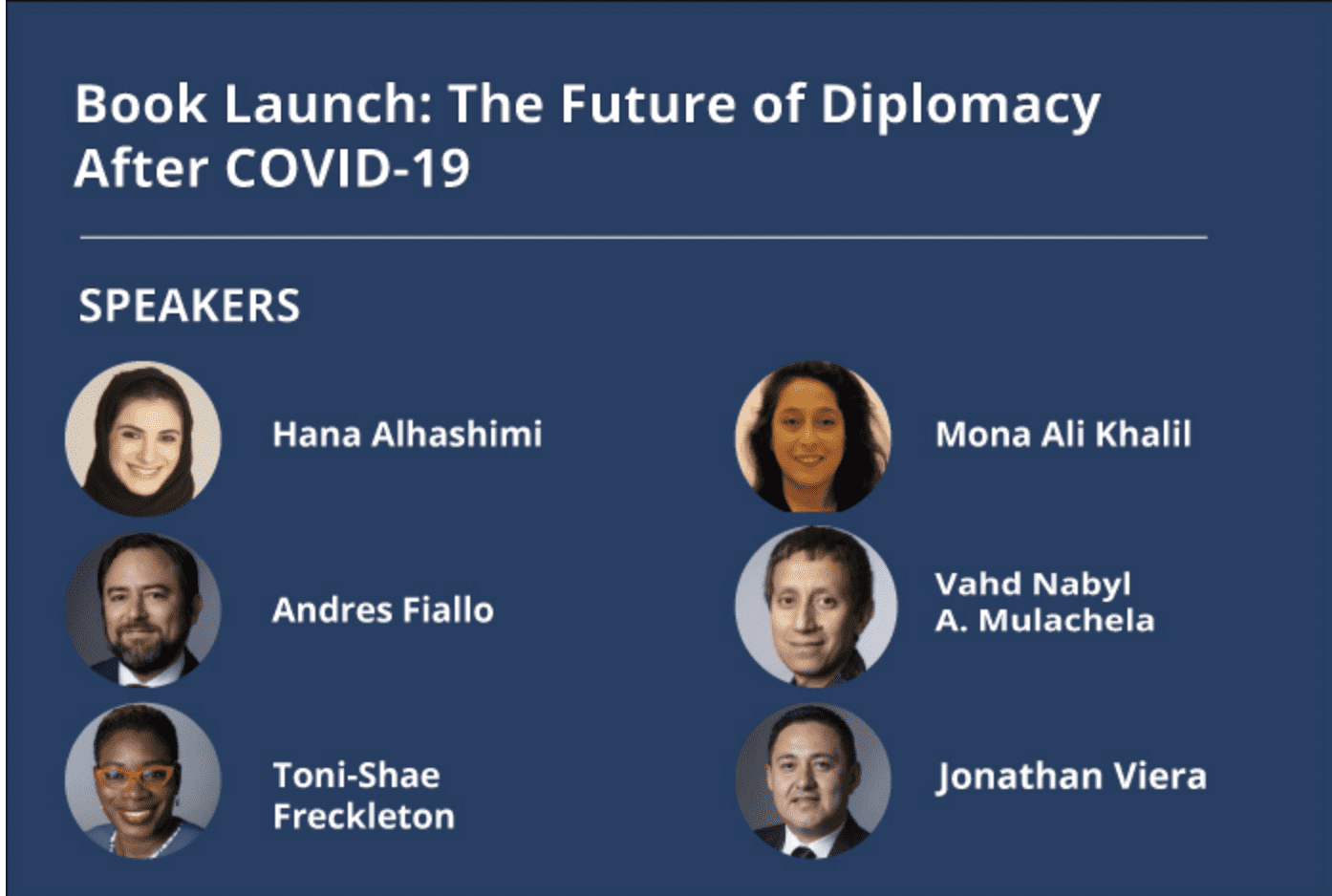 Welcome
Sarah Cliffe is the director of New York University's Center on International Cooperation. Prior to that, she was the Special Representative for the World Bank's World Development Report on Conflict, Security and Development, and the Special Adviser and Assistant Secretary-General of Civilian Capacities to the United Nations.
Panel Discussion
Hana Alhashimi coordinated the Future of Diplomacy After Covid-19 book project. She is an Emirati member of the United Nations Secretary-General's Internet Governance Forum Multistakeholder Advisory Group, and has served as Senior Advisor on Frontier Technologies in the Office of the 73rd President of the General Assembly.
Vahd Nabyl A. Mulachela is an Indonesian diplomat with experience in bilateral and multilateral affairs covering strategic partnerships, social development and health issues. He has served as Senior Advisor on Strategic Partnerships in the Office of the 73rd and 74th Presidents of the General Assembly.
Toni-Shae Freckleton is a Jamaican civil servant with 17 years of experience in policymaking on matters of social and sustainable development, both at the multilateral and national level. She has served as Senior Advisor on Sustainable Development in the Office of the 73rd, 74th and 75th Presidents of the General Assembly.
Jonathan Viera is an Ecuadorian diplomat who has served as negotiator in the main design and follow up processes of the United Nations agendas on financing, urban and sustainable development. He has taught on finance, economics and international relations at universities in Ecuador and the United States.
Andres Fiallo is an Ecuadorian diplomat, with 15 years of experience in International Human Rights, who has contributed to central processes within the United Nations for over a decade as a negotiator, coordinator and advisor spanning human rights, social affairs, peace and security.
Mona Ali Khalil is the Director of MAK LAW and a former Senior Legal Officer of the UN Office of the Legal Counsel. She is an Affiliate of the Harvard Law School Program on International Law and Armed Conflict and a Fellow of the UN Institute for Disarmament Research.
Stay Connected
Join our mailing list to receive regular updates on our latest events, analysis, and resources.

]