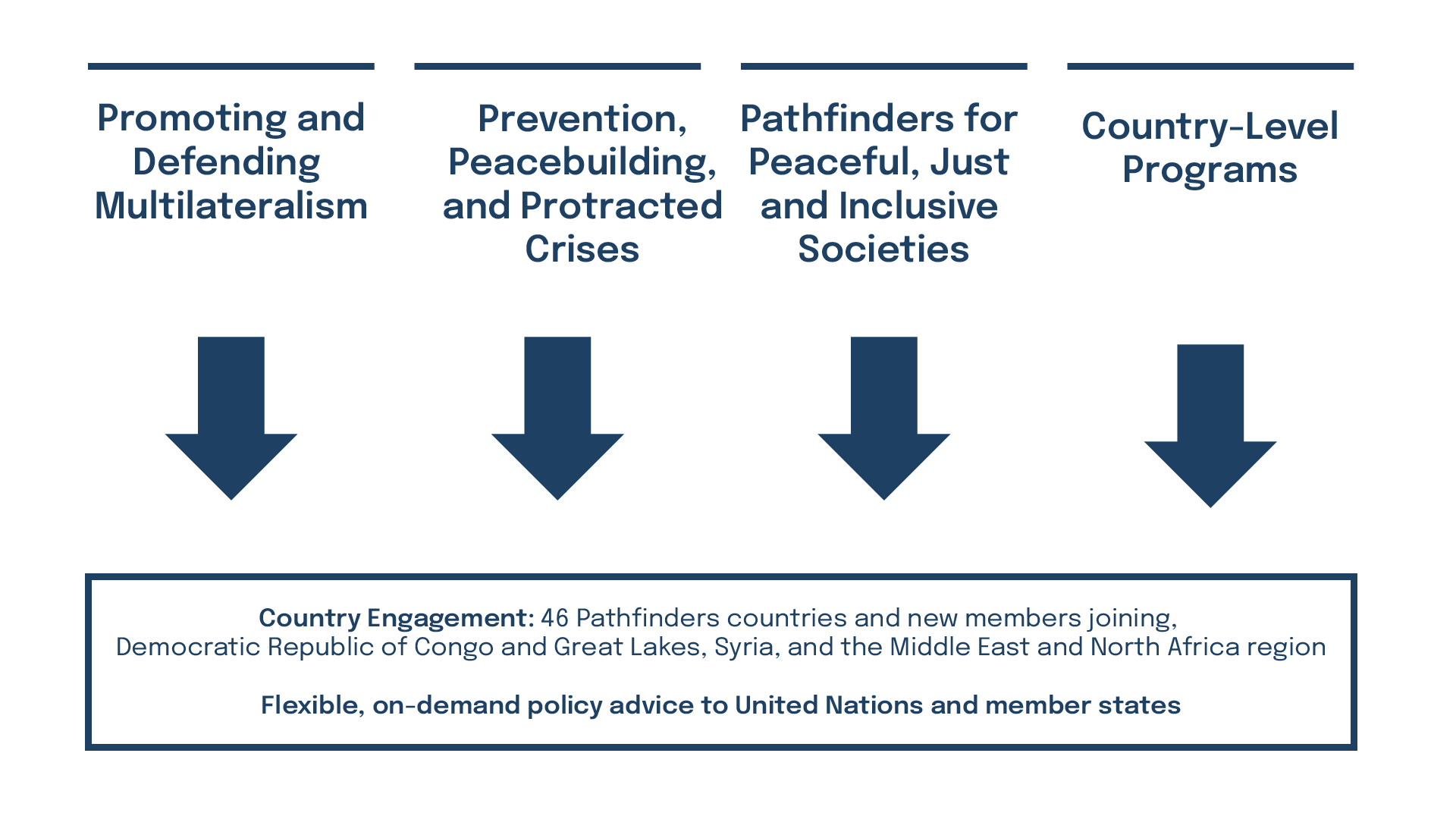 Overview
CIC's objectives over the next two years are to advocate for big ideas, while continuing to showcase small, practical steps that show the value of multilateral action, both in formal organizations and in more flexible multi-stakeholder groupings. We believe that a new narrative is needed to restore credibility in international actions. This must include understanding that at present "the political is economic, and the economic is political," listening to what divides us, acting on what unifies us, and focusing on results that are visible to people around the world in their daily lives.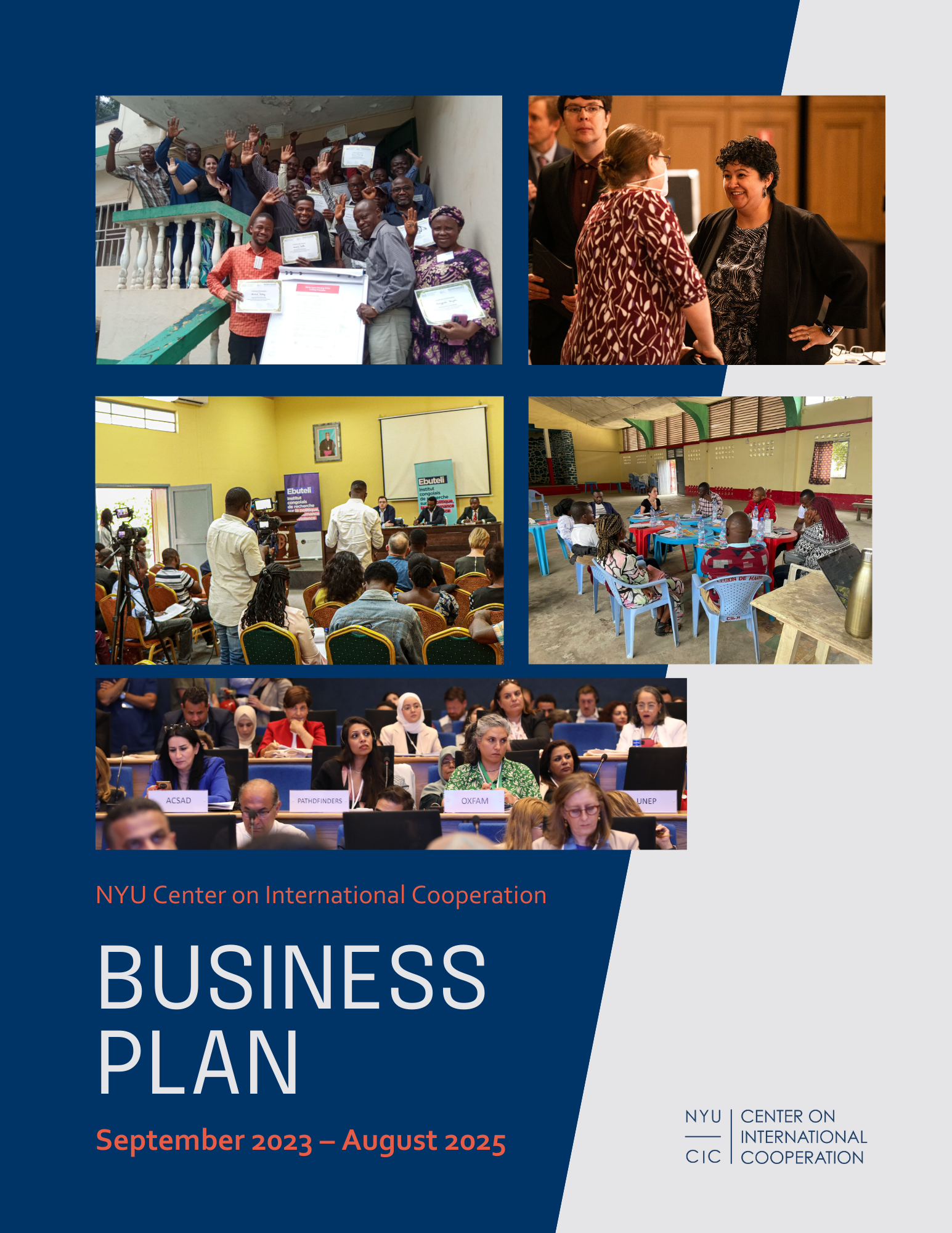 Organizational Theory of Change
Our organizational theory of change, across all of CIC's work, has the following assumptions:
National and international efforts support each other—for example, using international platforms to showcase and give momentum to national reforms, and to bring new ideas and to address global issues which no one country can address alone.
Successful change is generally achieved through a complementary relationship between those in charge of decisions (governmental leadership, private sector, and multilateral decision-makers) and those who can catalyze, advocate, and influence from civil society, academia, and member states.
Data and evidence are crucial, both in building the case for change and ensuring that the changes we advocate are the right ones and are likely to deliver results.
Read the 2023-2025 CIC Business Plan
Programs
Multilateral Reform
Successful contribution to advocacy on inclusive multilateral development bank reform, financing for development, and debt—specifically including contributions to developing coordinated positions by regional or cross-regional groups at the SDG Summit, the international financial institutions (IFI) Fall Meeting in Marrakesh, and in advance of the Summit of the Future in 2024.
A new roadmap for reform of prevention and peace operations at the United Nations, as part of the New Agenda for Peace.
Country-level and global results on the SDGs
10 country-level or sub-national examples of impact, including strengthening the approach to people-centered and victim-centered justice in Ukraine, the green transition in Indonesia, violence reduction initiatives in South Africa, Switzerland, Costa Rica, and country experiences directly impacted by the situation in Ukraine.
Launch of a flagship report on violence reduction, a new structure to support the Justice Action Coalition, and a renewed partnership for inequality and inclusion.
Agreement to review the international indicators measuring inequality.
A significant shift in mainstreaming support for peace, justice, and inclusion targets in one major multilateral agency.
Forgotten crises
Major scale-up in analysis to support accountability and transparency around the election in the Democratic Republic of Congo (DRC).
Start-up and establishment of new agreed international institutions for the missing and disappeared in Syria, with a particular emphasis on mental health.
Pilot application of new approaches in at least two politically estranged (post-coups d'état) situations and two situations of upstream prevention.
New framing policies adopted at the European Union, the OECD Development Assistance Committee, and United Nations on estranged situations.
Joint Programs Across CIC (2023-2025)
Collaboration across CIC programs was a priority in our previous business plan, and we will build on this during the current period. Potential joint initiatives include:
Work across CIC, led by Prevention, Peacebuilding, and Protracted Crises, on the New Agenda for Peace.
Collaboration between Multilateral Reform and Pathfinders' Grand Challenge on Inequality and Exclusion regarding financing for development and advocacy for reform.
A joint initiative between Multilateral Reform, Prevention and Peacebuilding, and the Pathfinders' Grand Challenge for Justice to redefine the definition of basic services in humanitarian situations to include community justice as a humanitarian service, more integrated macroeconomic linkages, and an increase in localization to foster development actor engagement.
A joint initiative between Pathfinders' Grand Challenge for Justice and Humanitarian Crises on working towards justice for refugees and displaced people.
Joint analysis between Pathfinders' Grand Challenge on Inequality and Exclusion and the Congo Research Group on climate financing in the DRC.
A collaborative program on data for violence reduction between Pathfinders' Grand Challenge on Halving Global Violence and the Congo Research Group, with input from the Protracted Crisis team.
Stay Connected
Join our mailing list to receive regular updates on our latest events, analysis, and resources.

]