This fall, the NYU Center on International Cooperation, with support from the Complex Risk Analytics Fund (CRAF'd) and its partners, will host a five-day hybrid conference with national and international experts in the data for peacebuilding and prevention ecosystem to facilitate peer-to-peer exchange and leverage emerging technologies and data science methods to tackle the growing challenges across the humanitarian-development-peace and climate nexus globally.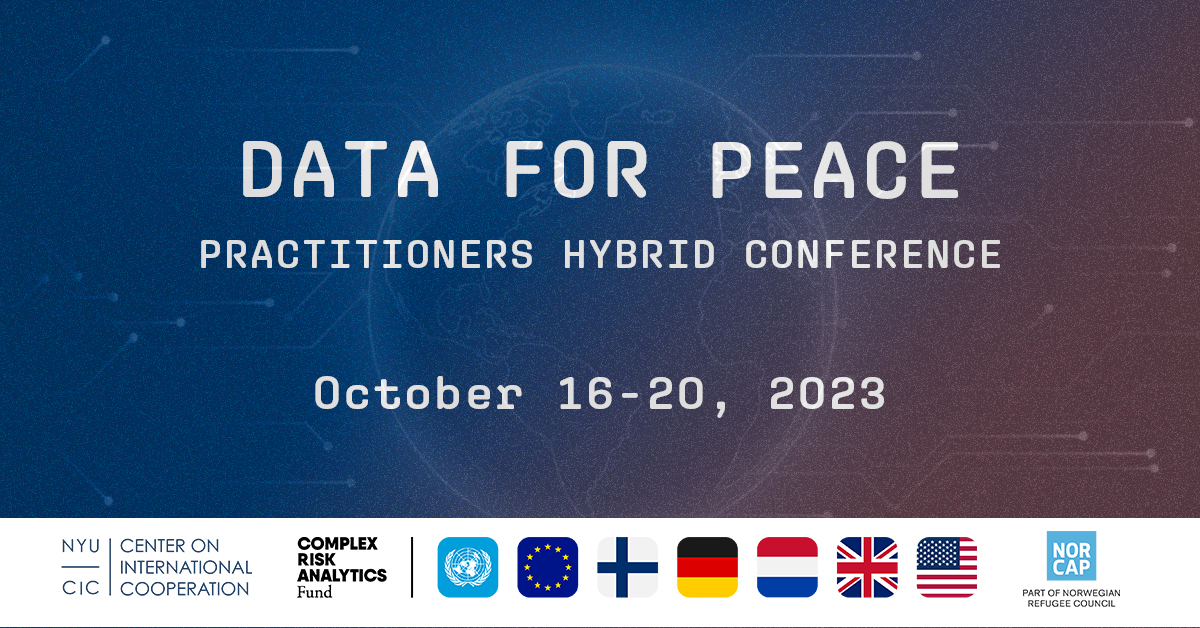 *Note that in-person registration is now at capacity, but virtual registration is still available
This five-day conference consists of:
●   OCT 16 and 17: Two-day hybrid event in NYC, gathering key stakeholders, and utilizing the proximity of the United Nations, permanent country representations, civil society organizations, and the private sector. Sessions will also be streamed for virtual audiences.
●   OCT 18, 19, 20: Three-day virtual component, gathering key global stakeholders. This will provide accessibility for participation from the world's global majority.
Event content will consist of expert panel discussions, workshops, online pitches, and networking opportunities. To learn more about this year's topics and themes, download the concept note here.
By registering for the Data for Peace Conference, this covers participation for attendees at no-cost for the in-person and virtual conference sessions. For the in-person portion, this also covers food expenses, including lunch and refreshments. Participant travel and accommodations will not be covered by the conference organizers and will result in additional expenses.
Call for Proposals (Closed)
This conference will be a highly participatory event for participants and session organizers. Pitch one of the following session options for inclusion in the conference:
Panel discussions: 60-min live discussions
Online pitches: 20-min project presentations with 10 min Q&A.
Workshops: offer hands-on training and an opportunity for practical capacity building in one of the themes of the conference.
This conference is hosted by the NYU Center on International Cooperation with support from:

Stay connected with us
Sign up for the Data for Peace mailing list!

]