How OWG Member States Can Create Effective Goals and Targets for Post-2015 Development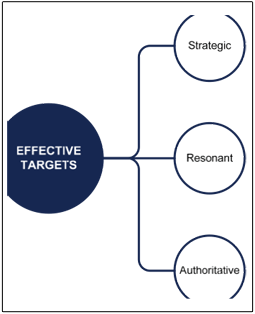 "The MDGs have retained their relevance to global policy and strategy for a decade. It is important to select goals and targets that will be equally effective after 2015." – David Steven, Goals in a Post-2015 Development Framework: Options and Strategic Choices.
Last week, the tenth session of the Open Working Group on Sustainable Development Goals (OWG) met to rehash the 19 focus areas that will comprise the post-2015 development agenda. Recently, the OWG Co-Chairs grouped the 19 focus areas into eight "clusters" which were discussed last week "with an eye to formulating goals and targets," as described in the Co-Chairs' recent letter to ambassadors.
As the discussion turns from what issues will be included in the next development framework to what goals and targets will be created to address those issues, it is important to step back and consider what we expect from goals, why we use them, and how we can make them effective.
CIC Senior Fellow David Steven has previously explored this topic in his report, Goals in a Post-2015 Development Framework: Options and Strategic Choices. In it, he identifies two primary functions of goals and targets. First, they give us a yardstick by which we can monitor whether a desired result has been or will be achieved. Second, they can be useful tools to drive progress towards a desired result. To that end, the OWG members should remember that the goals and targets they propose are likely to have three types of impact in the years to come:
They will provide a focus for ongoing debate, advocacy, and policy development.
They will provide a common strategic language that will allow actors in various fields to work with each other.
They may attract and direct resources to particular issues, as well as drive higher standards of delivery.
As those involved in post-2015 discussions know all too well, designing goals and targets is a trade-off: "Simpler targets are more likely to be useful, but can distort incentives. More sophisticated targets may be more technically appealing, but risk being quickly forgotten." Steven writes, "Development is complex, but goals and targets must be limited in number and relatively simple." To be effective, targets should be strategic, resonant, and authoritative.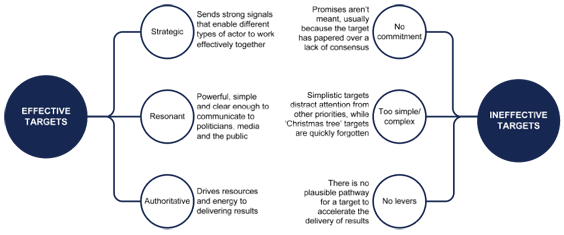 All of this will be crucial for members of the OWG to consider and debate in the coming weeks and months. After all, the way in which the goals and targets are structured could greatly affect how relevant and effective the post-2015 framework will be in the coming years.
Publication Date:
Apr 08, 2014
Author(s):
Ashley Skiles
Topic(s):
Post 2015 Development
Program(s):
Pathfinders for Peaceful, Just and Inclusive Societies
Bryony Steyn, Rabab Hteit
Stay Connected
Join our mailing list to receive regular updates on our latest events, analysis, and resources.