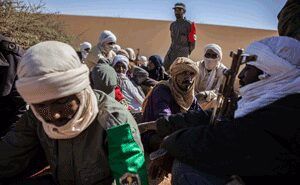 Global Peace Operations Review
The world's deadliest U.N. mission
Kevin Sieff and Richard Gowan
Since World War II, U.N. peacekeepers have been dispatched to 69 conflicts — civil wars, border disputes and failed states. But now they are confronting an unsettling new threat: al-Qaeda.
Here in the vast, lawless desert of northwest Africa, their convoys are being torn apart by improvised explosive devices and their compounds blasted by 1,000-pound car bombs. It is a crisis that looks more like the U.S. ground wars in Iraq and Afghanistan than the cease-fires traditionally monitored by U.N. missions.
In the past four years, 118 peacekeepers have been killed — making the U.N. mission in Mali, known as MINUSMA, the deadliest ever. The bloodshed has raised questions about how an institution developed in the 1940s can serve a world under threat from the Islamic State and al-Qaeda. The issue is especially potent given the expectation that U.N. peacekeepers will eventually go to places such as Syria and Libya.
"We are trying to learn these lessons here, rather than in Iraq, Libya or Syria," said Dutch Col. Mike Kerkhove, commander of the U.N. intelligence unit in Mali. "This is not the end of this type of mission. It's the beginning."
In 2012, Islamist radicals linked to al-Qaeda hijacked an uprising by ethnic Tuareg people and went on to seize cities across northern Mali, holding on for nearly a year until they were forced out by a French military intervention. When 11,000 U.N. troops arrived in 2013, they were meant to protect a fledgling peace deal and train the Malian army. But Islamist extremists regrouped across the region. It did not take long before the militants started targeting peacekeepers, whom they dubbed "Crusader occupation forces."
The United Nations was remarkably unprepared for the threat. Most of its troops from Africa and South Asia brought tanks and vehicles that were easy targets for explosives, unlike U.S. mine-resistant vehicles. The U.N. compounds, dotted with metal storage containers turned into offices­ and bedrooms, had flimsy perimeter security and were vulnerable to the massive car bombs used by al-Qaeda in the Islamic Maghreb (AQIM), the regional affiliate of the extremist group. For a while, U.N. forces­ didn't have a single attack helicopter.
"We weren't ready for these challenges," said Mohamed El-Amine Souef, a native of the Comoros Islands who is the top U.N. official in Gao, a city in northern Mali. Last year, Souef's compound was struckby a suicide bomber, the shrapnel battering his front door.
But the United Nations' dilemma goes beyond a lack of preparation or anti-terrorism equipment. At its New York headquarters and around the world, diplomats are debating: Should U.N. forces be engaged in counterterrorism at all?
"It's time for us to realize that this kind of front-line role is central to the future of the United Nations," said Peter Yeo, a senior official at the U.N. Foundation, a Washington-based nonprofit organization that supports the goals of the world body.
Yeo and others argue that without a counterterrorism capability, U.N. peacekeepers can't operate productively in many of the world's war zones.
But critics say that such a role would violate the peacekeepers' core principle of impartiality and ultimately make them less effective.
"Peacekeepers are only meant to use deadly force to protect civilians or to stop spoilers from threatening a peace process, not to pursue any group's military defeat," said Aditi Gorur, director of the Protecting Civilians in Conflict program at the Stimson Center, a Washington-based research center.
If peacekeepers had a more aggressive counterterrorism mandate, she and others argue, that could hurt the United Nations' ability to mediate between warring groups, which sometimes include violent Islamists.
Already in Mali, the International Committee of the Red Cross has described the United Nations as a "party to the conflict."
In the slide-show presentation he shows to visitors at his base in Bamako, the capital of Mali, Kerkhove includes an aerial photo taken last year of a compound that appeared to be used by a terrorist group. When he received the photo, Kerkhove debated what to do.
The men inside might be planning an assault on U.N. personnel, he thought, or a strike against civilians. Over the past two years, extremist groups have used Mali as a staging ground for attacks on luxury hotels, beach resorts and restaurants in West Africa. In 2016, al-Qaeda and its allies and affiliates launched at least 257 attacks in the region, according to the Long War Journal. But Kerkhove knew that the nearest battalion of U.N. troops, from Senegal, didn't have the weapons or air support to engage in a fight with trans­national terrorists. Ultimately, U.N. forces­ decided not to approach the compound.
The Mali mission is the only one of the 16 active U.N. peacekeeping operations that authorizes troops to deter and counter "asymmetric threats" — that is, terrorist groups — that could harm its work or civilians. Last year, the U.N. Security Council said the mission should become "more proactive and robust" — language that some read as encouraging more offensive operations.
"We need to be able to hit the terrorists where they are, before they hit us," said Souef, the U.N. official in Gao.
But peacekeepers worry that they don't have the tools to deal with armed extremists.
"We are gathering the intelligence, but we lack the forces­ who can act on that information," said Swedish Lt. Col. Per Wilson.
Richard Gowan, an expert on U.N. peacekeeping at New York University's Center on International Cooperation, said that U.N. missions lack the resources­ and doctrine for counter­terrorism work. He noted that even well-equipped Western military forces­ were outmaneuvered by terrorists in Iraq and Afghanistan.
"It is reasonable to ask why on earth the Security Council thinks that a U.N. force can do any better in Mali, even with European reinforcements," he said.
Over the years, the United Nations has increasingly had to confront the scourge of terrorism. Militants blew up its political assistance office in Baghdad in 2003, killing 22 people, including the U.N. envoy, Sergio Vieira de Mello.
But the Mali mission marks the first time a significant peacekeeping contingent has been sent to help a state regain control over areas contested by terrorist groups.
In a review in 2015, a panel of U.N.-appointed experts said that peacekeeping forces­ were "not the appropriate tool for military counter­terrorism operations." But it noted they do deploy in areas threatened by armed extremist groups "and must be capable of operating effectively and as safely as possible therein."
On their patrols through the sandy side streets of Gao, an ancient city along the Niger River lined with mud-brick houses, U.N. convoys are greeted by throngs of residents.
The locals always have the same complaint, said Senegalese Capt. Diagne Meth,standing outside his armored personnel carrier during one patrol: "They want us to do more."
Specifically, he said, they ask for more offensive operations, targeting radical Islamists as well as criminal groups.
"But I have to tell them, 'That's not what we're here to do,' " Meth said.
ready, the United Nations has tried to adapt in Mali. It has a fleet of surveillance drones. It has the first U.N. intelligence cell, a Bamako-based unit with analysts spread across the country. It has counter-IED specialists. It also has thousands of European troops, including large contingents from Germany, the Netherlands and Sweden, with soldiers experienced in fighting in Afghanistan.
Other U.N. missions have evolved in recognition of new threats. In Congo in 2013, for example, the United Nations launched its first brigade designed for offensive operations.
But the terrorism threat in Mali sets it apart.
"Sending out a patrol might work to deter an armed group in the Congo from engaging in violence, but it has the opposite effect in Mali, where terrorists are specifically trying to target peacekeepers," said Gorur, of the Stimson Center.
More than a year and a half ago, Mali's government signed a peace deal with separatist rebels in the north from the Tuareg and Arab communities. Authorities hoped the radical Islamists who had once aligned themselves with the local rebels — and later fallen out — had been driven away. But today, the terrorists appear stronger than ever.
The French military continues to conduct its own counter­terrorism mission across northwest Africa, including in Mali. The United Nations shares information with the French if it is deemed useful for protecting the lives of troops.
On Jan. 18, Islamist extremists drove a truck laden with explosives into a compound in Gao where the United Nations was protecting Malian ­forces. Seventy-six men — from national forces­ and armed groups that had joined the peace process — lost their lives in the blast. (No peacekeepers were killed.) The attack was claimed by al-Qaeda in the Islamic Maghreb, which said it involved one of its allies, al-Mourabitoun.
The explosion was staggering, but so was the lack of security at an installation ostensibly protected by peacekeepers. Three days before the attack, a visiting Washington Post reporter saw only a few Bangladeshi peacekeepers sitting inside a personnel carrier outside the compound. Terrorist groups had already struck U.N. facilities in the city several times, but the base was protected by only a flimsy metal gate.
Souef, the U.N. official, acknowledged that his own compound in the city was vulnerable.
"We shouldn't be living in a place like this," he said.
This article was originally published by the Washington Post on February 17, 2017
Céline Monnier, Habib Ur Rehman Mayar
Stay Connected
Join our mailing list to receive regular updates on our latest events, analysis, and resources.