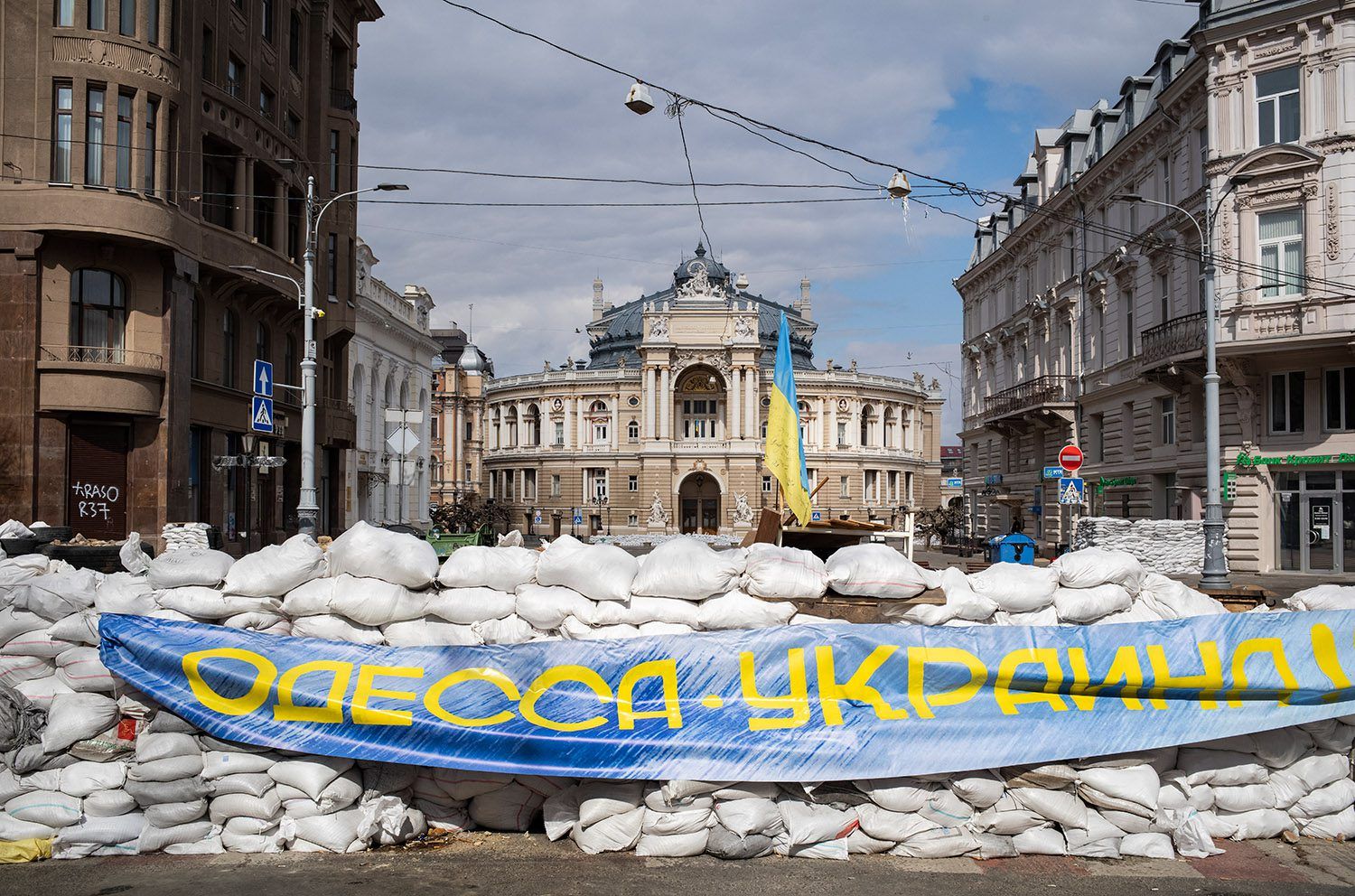 Reflections of a Syrian Humanitarian Visiting Ukraine: Similar Crises, Different Dynamics
In this blog, CIC interviews Dr. Tayseer Alkarim, a non-resident fellow who shares insights on his recent humanitarian work in Ukraine. He is a Syrian physician, humanitarian, and nonviolence activist, with over a decade of field experience in responding to humanitarian crises. Functioning in a variety of roles within both local and international organizations, he focuses on complex humanitarian crises, especially in conflict settings.
What is your background?
I am a physician, humanitarian, and human rights activist originally from Syria and now living in exile in France. Since the eruption of violence in my country in 2011, I have put my career as an oncologist on hold and dedicated my professional life to participating in and leading medical-related humanitarian operations, particularly in armed conflict and forced displacement contexts. Working on extremely sensitive humanitarian crises such as those in Syria, Iraq, Yemen, and many other countries has provided me with a rare opportunity to closely interrogate the complex dynamics of humanitarian crises from different perspectives. In particular, a decade-long medical career in armed conflict zones has enabled me to closely examine the patterns of violence that block healthcare provision, destroy health facilities, and displace health sector workforces, pushing already depleted health systems to the brink of total collapse. At the same time, it has allowed me to observe how swift, organized, and equitable healthcare provision in emergencies plays a fundamental role in alleviating suffering, recovering the health system over time, and strengthening community resilience.
How did you end up in Ukraine this past March and April?
When Russia launched its unprovoked invasion on February 24, 2022, humanitarian workers like myself mobilized around the world, intending to help those whose lives had been wrecked, most likely for a long time to come. As a board member of Global Response Management, a US-based non-governmental organization, I closely followed events on the ground, using the first-hand information provided by my colleagues in and around Ukraine. Three weeks later, I was called to participate in a mission aimed at providing various types of much-needed health services, including medical evacuations, training programs, and direct medical services, among others. I first joined the mission team in Poland and then traveled to western and central Ukraine to closely assess the needs and explore which intervention models would be most effective in this context.
What motivated you to join the mission to Ukraine?
From a personal and professional perspective, I have witnessed the failures of the international community to protect civilians from the horrors of violence and atrocities, including in my own country. I traveled to Ukraine with the hope that the major humanitarian actors might seize this world-historic moment to correct the mistakes made in other crises. I wanted to be there while the humanitarian community came together to develop more effective intervention models that do not allow political or economic considerations to take precedence over human rights. As a refugee who has suffered under Assad's dictatorship and the failure of the international community in Syria, this is an experience I would not want anyone to have.
Not only as physicians or humanitarians but as humans, it is part of our responsibility to share the experience and knowledge we gained through high costs with our Ukrainian colleagues. When I spoke to some local physicians about the patterns of attacks on health facilities and personnel in Syria and Iraq, a doctor from the pediatric hospital told me, "Sometimes I feel that we do not know what to expect; the situation is entirely new and unpredictable." Concerns about attacks with unconventional weapons made the situation even worse: "We are so afraid of chemical attacks and have no experience or resources to deal with them."
What similarities are there between what is unfolding in Ukraine and what you have seen in other conflicts?
Violence engenders complex and usually protracted humanitarian crises. The situation is worse in situations with pre-conflict fragility and vulnerability, delayed or interrupted humanitarian assistance delivery, where international humanitarian and human rights law is ignored, and when the parties to the conflict have enormous military capabilities, to name just a few factors. All of these factors are present in Ukraine.
The Russian invasion is characterized by its intensity and severity in relation to time. In the first three months alone, some 16 million people have become in urgent need of humanitarian assistance and protection. The pace of displacement is also remarkable. On the first day of the invasion, the UN High Commission for Refugees recorded some 77,000 Ukrainian refugees pouring into neighboring countries; a month later, the number exceeded 3.65 million refugees. Today, Ukraine faces the world's largest displacement crisis, with more than 15 million people (more than one-third of the total population) displaced internally or abroad. Unprecedented displacement threatens the country's demography for a long time to come. Despite the shift in frontlines and the significant reduction or cessation of fighting in the western and northern regions, hostilities in eastern and southern Ukraine remain intense and continue to further displace civilians from their homes.
Similar to other armed conflicts, countless homes, civilian infrastructure, health facilities, schools, roads, bridges, water and electricity utilities, and other vital infrastructures have been attacked and destroyed. For example, in less than three months, more than 11,000 buildings, including more than 3,200 high-rise buildings, 104 secondary schools, 49 preschools, and 16 higher education institutions were destroyed by the fighting in the Luhanska district alone. Another example is the city of Irpin, where more than 12,200 buildings were damaged or destroyed in just a few weeks of fighting. The pace and scale of destruction in the Ukrainian cities far exceeds destruction in other areas, such as Raqqah and Deir Ez-Zor in Syria. Two successive wars took place in these two cities, one against the Assad regime and one against the Islamic State in Iraq and the Levant. The numbers of damaged or destroyed buildings in these cities were 12,781 and 6,405, respectively. It is important to note that the actual numbers of destruction across Ukraine are likely to be even more frightening, as the available data only partially capture the extent of destruction inflicted on the country. If Russia continues its reckless invasion on the current scale, hundreds of thousands of buildings could be destroyed in Ukraine, and that will take decades to rebuild.
The humanitarian crisis in Ukraine is multifaceted in nature, and its consequences will significantly affect generations. Some 300,000 square kilometers, or nearly half of Ukraine's territory, are now contaminated with anti-personnel and anti-vehicle mines and other unexploded or abandoned munitions. Mine clearance is a costly process that can take years or decades. For example, it took twenty-three years to clear 86,000 remnants of war in Mozambique and five years to clear sixty-nine of the 186 square kilometers in Iraq contaminated with unexploded ordnance.
Attacks on health care facilities, personnel, and patients in Ukraine have similar patterns to those in other armed conflicts, but at a faster pace. According to data from WHO, more than 295 attacks have been recorded since February 24, 2022, killing 76 people and injuring 59. Many believe that the number of attacks is not yet fully known. For example, in the first six weeks alone, the Ukrainian government reported more than 300 attacks on its health care system; some hospitals were completely destroyed. Within this context, more than 1,380 attacks have been reported in Syria since the conflict began in 2011, according to the International Rescue Committee. Out of the 600 attacks documented by Physicians for Human Rights, the Assad regime with its allies, namely Russia, was responsible for more than 90 percent of attacks. The climate of impunity prevailing in Syria has likely emboldened the invading Russian forces to commit such crimes without concern for accountability or justice.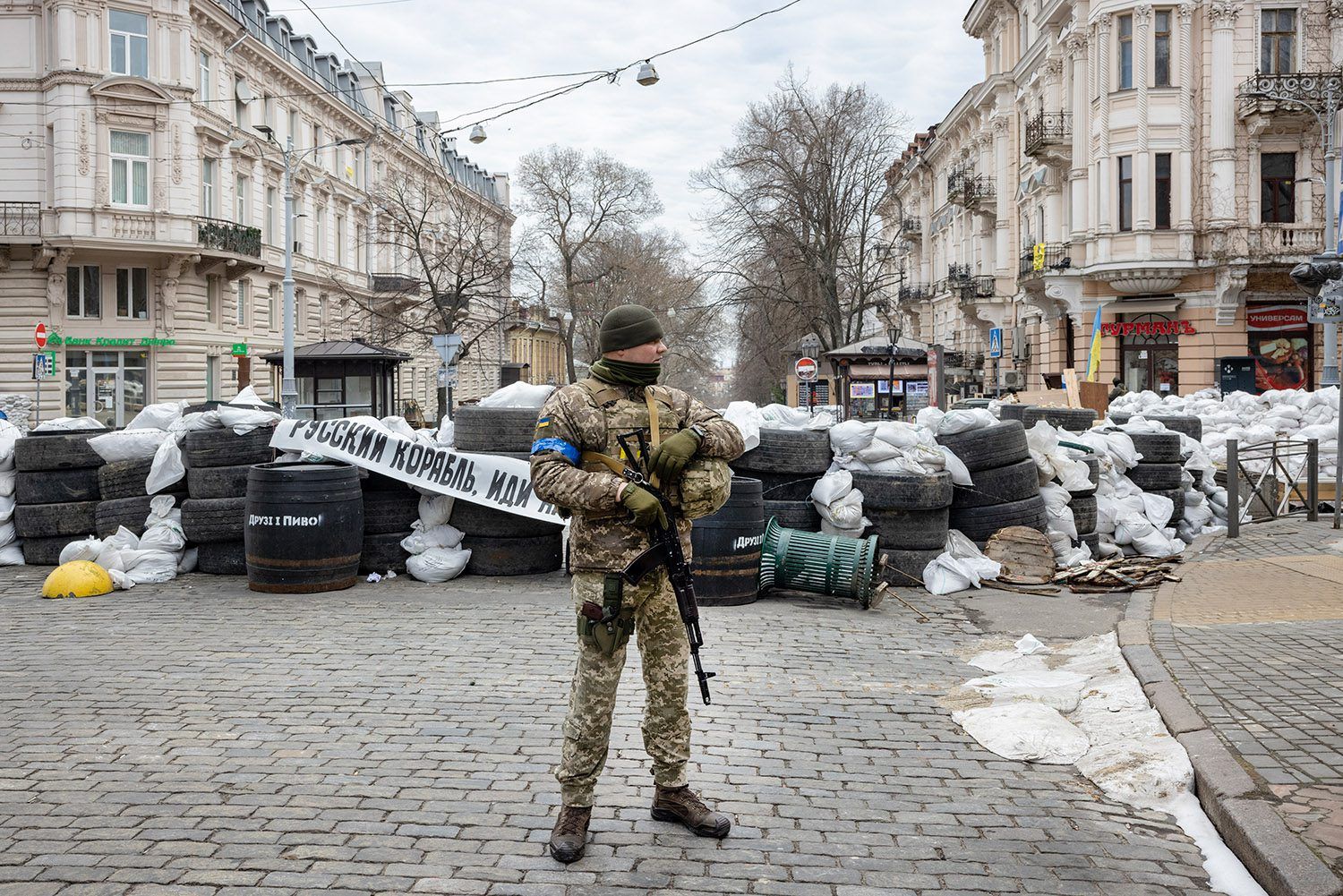 What distinguishes the Ukraine war?
Compared to other crises, the international community's intervention has been faster and better organized. More than 70 percent of the funds requested by the United Nations Office for the Coordination of Humanitarian Affairs for humanitarian assistance have already been secured (compared to 23 percent of funds requested for Syria, 16 percent for Chad, and only 3 percent for Burundi). This does not yet include funds flowing to Ukraine through international and national organizations.
Another notable difference is that neighboring countries in Europe, along with many other countries, continue to offer Ukrainian refugees hospitable and generous policies and procedures. They have facilitated Ukrainian refugees' access to legal status, education and health services, and the labor market. For non-Ukrainians, however, the experience has been quite different. Non-Western students, workers, and other groups have been denied exit and mistreated as they have attempted to flee the war-torn country. This hospitality comes at a time when some of these countries are treating migrants and refugees in an inhumane manner.  For example, while the United Kingdom is accepting thousands of refugees from Ukraine, it plans to send other asylum seekers to Rwanda, where their asylum claims will be processed. The situation with the Turkish government is even worse. In May 2022 alone, the Turkish government forcibly deported 1,222 Syrians to Syria through a single border crossing between the two countries, the Bab al-Hawa border crossing. The closed-door policy in Europe has claimed more than 3,000 lives, including women and children, while attempting to cross the Mediterranean and the Atlantic, hoping to reach Europe in the last year alone.
Have you seen any new best practices for responding to the conflict in Ukraine that global humanitarian and relief organizations in parallel situations can apply in their localized contexts?
From a development perspective, medical training programs are one of the best approaches applied in Ukraine. Due to security threats, among other factors, access to affected communities has been partly or wholly interrupted. Therefore, many medical organizations have implemented training programs at accessible healthcare facilities to train Ukrainian medical teams on specific procedures and techniques. This approach will increase the capacity of Ukrainian medical teams and enable them to respond effectively to complex medical conditions such as life-saving surgeries, mass casualties, chemical weapons attacks, and other anticipated scenarios. Local medical teams who received training will deliver this experience to their Ukrainian peers in inaccessible areas. Moreover, some Ukrainian medical groups were brought to other countries to receive training sessions and then sent back to their hospitals with advanced skills and experiences.
Another important example is the medical evacuation programs. Hundreds, if not thousands, of patients with complex conditions were evacuated to receive advanced healthcare services in the cold areas in Ukraine (where there is no fighting) or abroad. Many humanitarian organizations, academic institutions, and governments are involved. Evacuated cases include patients who need complex surgeries, advanced intensive care services, some complicated chronic diseases, and others. Medical evacuation programs offer not only advanced services to patients but also free up extra beds for patients who do not need evacuation or who can't be evacuated.
Were there any interactions or conversations with Ukrainians that stood out or stayed with you?
It is crucial to contextualize the humanitarian response through the affected communities' lenses. Therefore, part of our work is to collaborate with local actors and provide them with the technical, financial, and in-kind support needed to achieve the intervention's objectives. Many humanitarian experts were positively impressed by the deep understanding of the Ukrainian partners about the roots of this conflict and its potential future trajectories. We redirected our focus based on the feedback and assessment we received from our Ukrainian peers on many occasions. Also, having governmental and non-governmental representatives who are always ready to answer and resolve concerns and obstacles was greatly helpful and appreciated.
The resilience and capacity of the Ukrainian government and people are outstanding. I met a priest in a city in the west to discuss his plans to provide a safe and dignified refuge for those who fled for survival. The facilities he and his team provided were surprising. "It is not only the government's responsibility, but also it is ours. All of us must work together to protect their dignity and provide them with whatever we are able to," he said.
For many, the government successfully absorbed the shock and fulfilled its responsibilities. Public and private institutions, including hospitals, schools, banks, transportation, and other vital institutions, continue to provide services. Notably, men between the ages of 18 and 60 were not allowed to leave the country, which offered significant human resources to run public services and businesses and prevent public institutions from collapsing. Also, through its strong presence on the international stage, the Ukrainian government has minimized the impacts of Russia's narrative and propaganda. I asked a local assistant if he was planning to flee the country and start a new life, "Staying in the country is an act of resistance. There are several ways to escape this horror, but I am not thinking of leaving right now. The military and political performance of our government is so far satisfactory… I feel ashamed when I think about fleeing. When the call to arms comes, I'll be ready. I am currently helping international organizations to show the world the terrible catastrophes caused by Russia's invasion."
Humanitarian aid is crucial in places where violence kills, displaces, and destroys. However, it is still a symptomatic treatment. More systemic and sustainable actions, policies, and procedures must be developed to prevent violence from erupting in the first place. Our world is already threatened by many convoluted challenges, climate changes, economic crises, healthcare emergencies and outbreaks, hunger, displacement, and others.
To encounter abhorrent humanitarian crises produced by violence and armed conflicts, we need to rethink if the existing frameworks are sufficient to protect the lives, dignity, and properties of victims of violence and armed conflicts. Making such frameworks more efficient, functional, and institutional is needed now more than ever. This process is not only the responsibility of the humanitarian and human rights actors. It is a global responsibility in which everyone should be involved in bringing their particular areas of expertise.
What urgent issues do you see as the greatest areas of need for humanitarian organizations on the ground?
The most urgent task is to end the war in the first place. As the war still rages unabated, its devastating impacts will continue to cost lives and destroy infrastructure in the short and long term.
Accessibility is one of the significant challenges, especially near or on the frontlines or in besieged cities. Humanitarian access must be protected from any form of politicization, militarization, and manipulation. More than ever, it is necessary to develop decisive actions, policies, and procedures to protect humanitarian operations from the influence of entities and governments that commit human rights violations or military assaults.
All parties to the conflict must facilitate access for humanitarian and medical teams to deliver desperately needed services to vulnerable populations.
Humanitarian corridors save lives, no doubt. However, based on lessons learned from Syria, humanitarian corridors could also be misused to achieve military and political goals. People, including patients, evacuated from their homes in Syria never make it back, even years after the fighting has stopped in their villages or cities. In Ukraine, it is crucial to ensure that evacuated people will be able to reach safety and, eventually, return with dignity to their homes.
Negotiations between conflicting forces are extraordinarily challenging and should find a robust balance between impacts, principles, and interests. Associations that facilitate and lead negotiation processes between invading Russian forces and the Ukrainian government need to have greater autonomy and authority to protect humanitarian principles and the rights of the conflict-affected communities.
In addition, accountability and reducing corruption are also critical, especially in complex humanitarian contexts. Transparent procedures should be developed and implemented to ensure that humanitarian aid and funds are distributed swiftly and equitably to affected communities, reaching those most in need first.
All photos are courtesy of Marc Roussel
Paul Fishstein
Stay Connected
Join our mailing list to receive regular updates on our latest events, analysis, and resources.