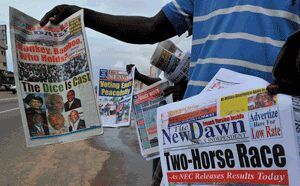 Global Peace Operations Review
Liberia's journey to national ownership
Amanda Lucey and Tafadzwa Munjoma
In October 2017, Liberia will hold what is expected to be a hotly contested election. The leaders of 22 political parties will be vying to replace President Ellen Johnson Sirleaf, Africa's first democratically elected female leader.
As Liberia gears up for the election, much debate has been generated around the successes of her administration and the delivery of promises made. During her two terms at the helm, Sirleaf has made substantial efforts to ensure sustainable peace. However, for these efforts to continue enjoying a chance of success, they need to be country-owned: not just by the national government, but also by an inclusive social compact between the government and its society.
One way to achieve this is through a reinvigorated process of decentralisation. Liberia has a number of policies, reforms and agendas in place to ensure this happens. Why is decentralisation important, and how can it be achieved?
Decentralisation involves transferring power to local government structures to allow for more context-specific governance, as well as transparency and accountability. In this way, it also enables more representative ownership in decision-making structures.
Inclusive national ownership is widely acknowledged to be vital in peacebuilding processes. As noted by the 2015 UN Peacebuilding Review, inclusive national ownership means that peace cannot be imposed, but must be built by domestic stakeholders. This goes beyond the strategies and priorities of national government to being broadly shared across all social divides. A wide spectrum of political opinions and domestic actors must be heard – particularly from women and youth. True national ownership is about people owning the solutions and national processes.
The 2003 Comprehensive Peace Deal ended a 14-year-long protracted civil war in Liberia and paved the way for the 2005 presidential elections. Post-conflict reconstruction and peacebuilding efforts in Liberia hinged on addressing the root causes of the unrest.
In 2005, the country established the Truth and Reconciliation Commission to confront the complex and brutal legacies of the past. The subsequent report, released in 2009, attributed the causes of the conflict to poverty, corruption, broad inequalities, land tenure and violations of economic, social and cultural rights. It made strong recommendations for the decentralisation of political and economic power.
As noted by the report, Liberia harbours a history of exclusion, which stems from the official settling of freed slaves from the United States in Liberia as early as 1822. These former slaves became the elite and fostered a culture that excluded native Liberians. This also caused a disconnect between the decision-making processes led at the national level, and the community-level, traditional processes on the ground. Monrovia holds all core functions of the government institutions, and there is no real cohesion with the greater part of Liberia in the 15 counties.
There have been attempts to decentralise government services and institutions in order to increase national ownership. However, these efforts have, at times, focused more on deconcentration (which means localising services, while decision-making remains at national level), rather than a true process of decentralisation, which allows a broader decision-making process through localised policies.
To facilitate the process, Liberia has established several County Service Centres – a one-stop shop where documentation-related services including permits, licences and certifications are offered at the same value and cost as in Monrovia. The four County Service Centres that are currently operating have reportedly provided services to some 22 363 people over a period of seven months. Yet limited resources have once again hindered full implementation. Furthermore, these centres do not allow greater participation in localised government structures. As such, these efforts demonstrate attempts at deconcentration, rather than decentralisation.
The Liberian government has recognised the need for decentralisation as a means to achieving real ownership of the country's peacebuilding process. This is encapsulated in the Agenda for Transformation 2012-2017; a five-year, consensus-driven and country-specific development plan. Here, the agenda specifically states: 'The Government will recast its relationship with citizens, and all government functions will be geared to provide services to the population.'
In 2010, the government of Liberia approved The National Policy on Decentralisation and Local Governance, a 10-year road map that calls for political, fiscal and administrative powers to be decentralised and transferred to local governments. This was followed by the Decentralisation Implementation Plan. Despite these policies, the process of decentralisation has been hindered by a lack of political will, limited human and financial resources, and most importantly, the need for constitutional reform and a local government act.
To finance the rolling out of the decentralisation agenda, revenue collection and expenditure must be managed efficiently. In this regard, however, the political will to divert resources to local government remains a challenge. Human resources and institutional capacity are needed to enhance the implementation and efficiency of services. Further, the exact roles of sub-national and national levels of government should be clarified.
If Liberia is to achieve truly inclusive national ownership, the government must make decentralisation a priority. In this regard, it needs to expedite the legal reforms initiated through the constitution review process and the draft local government legislation. It is the government's responsibility to ensure that adequate resources have been catered for in the national budget.
There is more to decentralisation than providing resources through basic services: it speaks to developing a social compact between the government and its society to ensure ownership of all solutions in moving the country forward. This will necessarily involve dialogues with communities to formulate shared visions of local governance. Decentralisation is vital for Liberia, and if sustainable peace is to be achieved, it must be given priority.
This article was originally published by ISS Africa on January 18, 2017
Tafadzwa Munjoma is an Intern with the Peace Operations and Peacebuilding Division of ISS Pretoria | Twitter:@TapiwaMunjoma 
Amanda Lucey is a Senior Researcher with the Peace Operations and Peacebuilding Division of ISS Pretoria | Twitter: @luceyamanda
This ISS Today was made possible in part by a grant from Carnegie Corporation of New York. The statements made and views expressed are solely the responsibility of the authors.
Luisa Portugal
Stay Connected
Join our mailing list to receive regular updates on our latest events, analysis, and resources.