Data for Peace Dialogue: Smart Cities⁠—Opportunity or Risk for Peace in our Cities?
Join the June Data for Peace conversation to hear perspectives on how to navigate the space of smart cities, in between opportunities and challenges, and help us understand if smart cities are an ally or an enemy of the peace in our cities.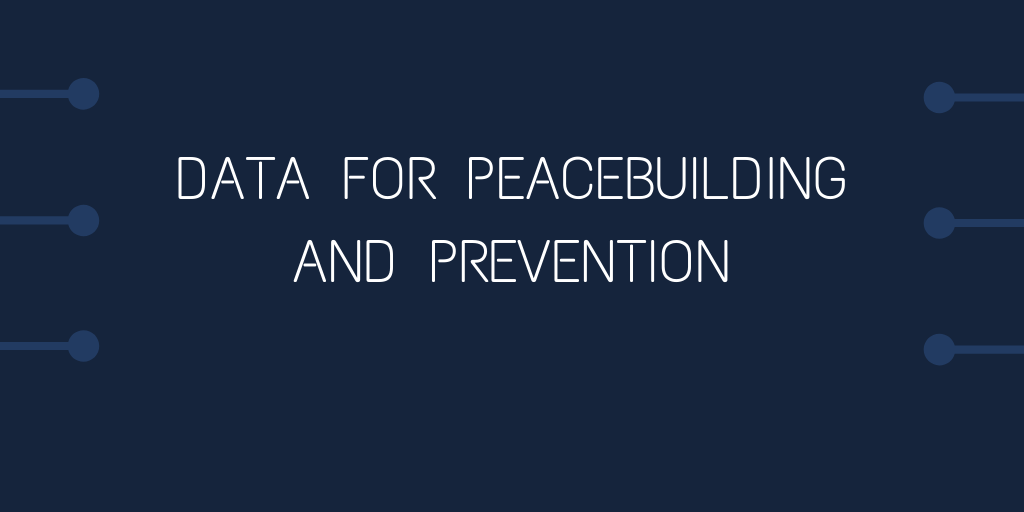 Cities are already half of the world's population and are expected to grow. 1.3 million people move into cities every week, and by 2040, 56 percent of the world's population will be living in cities. At the same time the risk of urban violence is ever-present, threatening the prosperity of cities and its residents, particularly those most vulnerable. The Peace in Our Cities Network seeks to galvanize a movement of people, mayors, and city governments to halve urban violence by 2030 by advancing the human-rights based approaches to violence prevention and reduction.
At the same time another trend is spreading across the world. Development of emerging technologies, big data,  and advanced analytics are changing many spheres of our lives. Many of these approaches are being deployed under the umbrella of "Smart City" projects. Analysts predict overall smart city investment will reach USD $203 billion globally by 2024. Could the 'smart' approaches to urban development aid in reducing violence and building community safety in increasingly complex urban ecosystems? Or, will they be an impediment to realizing the ambition of Peace in Our Cities of peaceful, just, and inclusive cities. 
A recent study suggests that smart city technologies could help cities reduce crime by 30 to 40 percent and enable 20 to 35 percent faster response times for emergency services. However, technology does not solve problems caused by poverty, inequity, or societal disruption caused by the COVID-19 pandemic. But can the technology be an additional tool within a human approach? Technology can potentially help police services connect to citizens, build trust, and strengthen relationships with communities, but it can also create bigger divide, massive surveillance, discrimination, and more stratified and biased society.
This webinar will connect experts and city officials who will share their perspectives on how to navigate the space of smart cities in between opportunities and challenges, and help us understand if smart cities are an ally or an enemy of the peace in our cities.
Speakers
Junyoung Choi,

Director, Centre for Data Science, Seoul City Institute of Technology, South Korea
Maria Isabel Couto, Program Director, Instituto Fogo Cruzado
Renée Cummings, AI Ethicist, Criminologist, Data Activist in Residence at the University of Virginia, and Community Scholar at Columbia University
Daniel Mack, Program Lead on Halving Global Violence, Pathfinders for Peaceful, Just and Inclusive Societies
Paige Arthur, Deputy Director, NYU Center on International Cooperation
Branka Panic, NYU CIC Non-Resident Fellow, AI For Peace Founder
Data for Peace Dialogues is a monthly discussion series organized as part of NYU's Center on International Cooperation "Data for Peacebuilding and Prevention" program. The dialogues elaborates on examples and recommendations presented in the latest report on Ecosystem Mapping: The State of Play and the Path to Creating a Community of Practice.
In these in-depth discussions our guests, peacebuilding experts, and practitioners will share their work in utilizing advanced data-driven approaches to peace and prevention work. We will share examples of projects utilizing the revolution in information gathering, data analytics, artificial intelligence, machine learning, satellite imagery analysis for peace, security, and human rights protection. We will discuss many opportunities, as well as challenges this novel field is bringing, as availability or lack of data, data sovereignty and data colonialism, the risk of misuse against the risk of missed use of data, security and safety, and many other ethical challenges.
Peace in Our Cities (PiOC) is a preeminent organizing body to address one of today's most pressing challenges: violence that threatens individual lives and undermines the very growth and prosperity of the urban world. PiOC is co-managed by Pathfinders for Peaceful, Just, and Inclusive Societies at NYU Center on International Cooperation, the Kroc Institute for Peace and Justice, and the Stanley Center for Peace and Security.